Your Children's Hotel in Austria » alpina zilltertal
Children would spend their holiday at the alpina zilltertal
Unforgettable family holiday in the Zillertal: as a family hotel in Austria, the well-being of the whole family is a particular concern to us. Harmonious holiday with the family is our motto! Your whole family in our house - a great family holiday for you & your children.


A family vacation for children AND parents
Kids are the stars at the family hotel alpina zilltertal – our all-inclusive childcare is completely geared to the wishes and needs of our little guests. Their parents can take a break! And that is a good thing: because they can spend their timer completely relaxed in the PenthouseSPA or totally active in the untouched nature of the Zillertal.
The HIT! Our
child-care
in the Baby Club (0-2 years), Miniclub (3-6 years), Maxiclub (7-10 years) and Teenieclub (11-15 years). We organize a divers leisure program for kids and teens: with face painting and creative afternoons, snow-shoe hikes, sledding evenings, magic shows and so much more! And we always include a good snack and drinks. It's impossible to be bored!
All year round, kids and babies can learn to swim with playful and age-appropriate swimming lessons. And in
winter
we offer children's ski and snowboard lessons at the training lift. The partner ski school picks the kids up and brings them back to the hotel.  Our small guests get a 10% discount on the the ski school prices and a 20% discount on ski rentals.
Our Mascot, Alpini the squirrel, brings even more fun to your children's hotel in Austria. This cute little guy guarantees action and fun for kids wherever he goes and helps the children find their way around the hotel.
Child-care is offered 12 hours per day, 84 hours per week from 9 a.m. to 9 p.m.
All-inclusive alcohol free for kids and their parents!

Child care
Our Family-friendly Hotel in Tyrol:
Child-care
After an exciting day of fun and games in the family holiday in the Zillertal, your children can enjoy a meal from our children's buffet.


As all the excitement causes not only hunger but also thirst, all soft drinks for your children are included during child care times. That's the way to spend a family holiday in one of the best family and children's hotels in Tyrol!
Families are accommodated in specially designed family suites, which all have a separate children's bedroom.

But not only there - fun, fun and more fun - indoors or outdoors - depending on the weather or time of day. That's the motto in our own indoor playground:  the new 700m² play area in the children's hotel in Tyrol has a gymanstics room, soft play equipment and so much more. Frolicking is strictly allowed!

Flrolicking, splashing and all the fun that involves is also popular in Woody's, our water paradise - indoors and outdoors. The Family Activity Pool is an outdoor and indoor pool in one. And one more thing you shouldn't miss: the water slide - right into the cool water!
Family Suites in the Children's Hotel in Austria:
Where the wild things are ...
Our offers for a vacation with children
---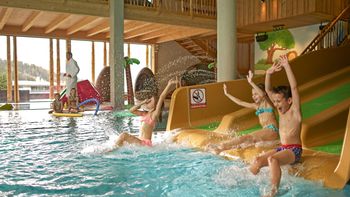 7=6 Bonus weeks
We have a real treat for you if you book outside of the peak season: 7 nights of heavenly family vacaiton and you only pay for 6.
Included in the price:
* Our gourmet board "
All inclusive Alcohol-free
"
* 1 backpack per room for the duration of your stay
* Mountain breakfast on the Spieljoch (seasonal) with magnificent views
* Free bike rentals for adults and children
* in summer: Zillertal Aktivcard inclusive
* Free admission every day to the Zillertaler Erlebnistherme - two hours of relaxation .... just four minutes on foot from the hotel
Sport & Spa
* Penthouse SPA for adults
* Woody's Activity Pool with trioslide for the whole family
* Panorama Fitness
* free bicycle rentals
Childcare
* 6 days per week from 9 am to 9 pm
* 4000m² Family area
* 700m² Indoor play area
* 300m² childcare area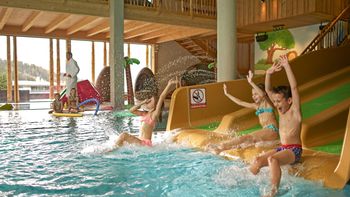 5=4 Bonus days
We have a real treat for you if you book outside of the peak season: 5 nights of heavenly family vacaiton and you only pay for 4.
Included in the price:
* Our gourmet board "
All inclusive Alcohol-free
"
* 1 backpack per room for the duration of your stay
* Mountain breakfast on the Spieljoch (seasonal) with magnificent views
* Free bike rentals for adults and children
* Free admission every day to the Zillertaler Erlebnistherme - two hours of relaxation .... just four minutes on foot from the hotel
Sport & Spa
* Penthouse SPA for adults
* Woody's Activity Pool with trioslide for the whole family
* Panorama Fitness
* free bicycle rentals
Childcare
* 6 days per week from 9 am to 9 pm
* 4000m² Family area
* 700m² Indoor play area
* 300m² childcare area